2018 Aztec Calendar Cuauhtemoc 1 Oz 999 Silver Round Golden State Mint GEM BU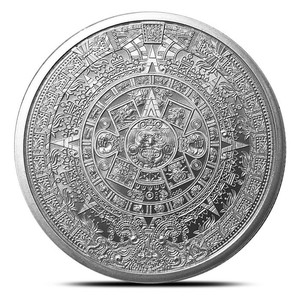 ---
2018 Aztec Calendar Cuauhtemoc 1 Oz 999 Silver Round

Golden State Mint GEM BU.

Satisfaction Guaranteed

Description

The 2018 Aztec Calendar 1 Oz silver round is an impressive

.999 Fine Silver coin GEM brilliant uncirculated that any investors

or collectors will be certain of having them in their portfolio.

History:

The Aztec Calendar Stone, currently housed in the National Anthropology Museum

in Mexico City, is the most famous work of Aztec sculpture in history.

This intricate stone measures 12 feet in diameter, is over three feet thick, and weighs

in at a whopping 24 tons. It was carved around the year 1500 as a means to describe

the origins of the cosmos and the structure of the universe as the Aztecs saw it.

And to this day, the Aztec Calendar stone endures as one of the most prominent

emblems of Mexican culture.

Round Highlights

Contains 1 Troy Oz of .999 Fine Silver GEM BU.

Designed after the wold famous Mexican Aztec Calendar stone.

IRA precious metals eligible.

Diameter :  39 mm.

Obverse:  Has the famous Aztec Calendar stone. The design is in a circular shape resembling a sun, with rays emanating outward. In the center is the face of the Aztec solar deity, Tonatiuh, which gives the monolith its alternate name the Sun Stone. He is shown holding a human heart in each of his clawed hands, and his tongue is represented by a stone sacrificial blade. He is surrounded by a ring of 20 symbols that represent the 20 days of the Aztec month, along with four scrolled arrows pointedin the four cardinal directions.

Reverse: Shows astonishing left portrait of Cuauhtemōc, the last Aztec Emperor of Tenochtitlan in Mexico.

Minted in the United States by Golden State Mint.

Round will be sent to you in a zippered plastic flip.

Purchase these 1 Oz .999 fine silver coins iconic Aztec Calendar today.

Payment:

We accept all major credit cards through Paypal.Shipping:Product  is shipped within 1-3 business days after payment clears.Free shipping in the Continental United StatesShipping and Handling cost to AK $3.95 and to HI,PR $4.95.

About Us:  

We have been in retail business in New York State for over 12 years. We acquire our

products and artwork from well-established, reputable wholesalers and art galleries

that possess full knowledge of their industries.

Our numismatic and bullion inventory comes from trusted suppliers that have been

in business for over 20 years supplying authentic,beautiful gold and silver products

from different mints.

Our artwork comes from reputable galleries and art wholesalers. Our custom-made

ornate and other picture frames are handcrafted artistically and meticulously.

These frames come from full service picture framing companies that are knowledgeable

of their industry, and that have been in business for over 40 years supplying their

clients with gorgeous frames.

Satisfaction Guaranteed - Terms of Sale - Return PolicyWe guarantee the authenticity of the products we sell as described.  Your satisfaction is guaranteed.We want our customers to be pleased with their purchases.  If for any reason you have a problem, please feel free to contact us.We will always do our best to accommodate you.  If an exchange is requested, we reserve the right to find an acceptable replacement or refund your money,if an acceptable replacement is not available.We offer a thirty (30) days Policy return from the date on which you have received products.The refund, return and/or exchange policy only apply to customers who notify us through , or call us at 718-227-3903 within thirty (30) days from the date on which customer receives their items and keeps the items in its original packaging. We will give you instructions on how to return your items.Shipping and handling charges are non-refundable.For returns, you must carefully package the product and you are responsible for the cost of return shipping.Empire City Gold-Art reserves the right, at its sole discretion, to reject any return that does not comply with these requirements.